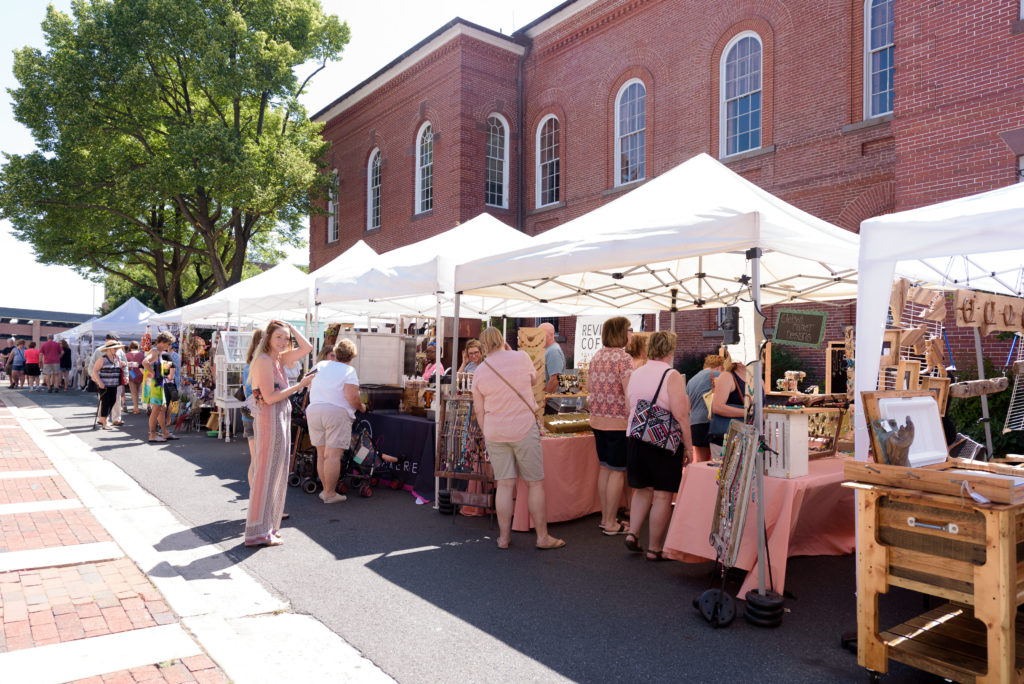 Thank you for your interest in being a vendor at The Belle Aire Market. We are so honored to provide you with a venue in the heart of Bel Air to highlight your finely crafted artisan items. We are looking for vendors who make and sell one of a kind pieces; no direct sales companies.
Some of the items the committee will be looking for are (but not limited to) antique/vintage: housewares, furniture, industrial materials, linens, clothing, jewelry, and home décor; handmade: artwork, jewelry, clothing, outerwear, stationary, bath products, decorations, candles, lawn art, baby clothes, glass and woodwork, etc.
Dates
May 9, 2021
June 13, 2021
July 11, 2021
August 8, 2021
September 12, 2021
October 10, 2021
Location
121 South Main Street, Bel Air, MD 21014
Time
9:00am to 2:00pm  |  *Rain or shine*
Vendor Space
Accepted vendors will be allotted a space (10'x10' or 10'x20'). Vendors are responsible for providing your own table(s), chairs, backdrop, etc. Tents are welcome, but must be white in color. Tent weights are also required for safety purposes.
Electric and WiFi are not provided.
Single space/Single event: $60 for 10'x10'
Single space/Entire season: $330 for 10'x10' *discounted rate
Double space/Single event: $120 for 10'x20'
Double space/Entire season: $690 for 10'x20' *discounted rate
Application & Fees
Your application, photos and vendor fee can be filled out and submitted electronically via the online form below. Accepted vendor's fees are non-refundable. Vendors who are not accepted will be sent an email notifying them as such. Only one person's business will be allowed per vendor space. Notice of location and set up instructions will be emailed on Wednesday before each Belle Aire Market.
You will be directed to payment options immediately after clicking submit. Applications without payment will not be reviewed. In the event of your application not being accepted, your application fee will be refunded. Cancellation notices must be received no later than 7 days prior to the Market or you may not be invited back. There will be NO REFUNDS.
Bad Weather Conditions
The Belle Aire Market is a rain or shine event. The only circumstances which will lead to cancellation are those that are severe and/or life threatening weather conditions that may jeopardize our vendors and patrons; a decision to cancel will be made 24 hours in advance. In that case we will post a message to this website and our Facebook page.
Arrival & Setup
Vendors with large items (i.e. furniture, etc.) should arrive between 7:00-7:30am; vendors with smaller items should arrive between 7:30-8:00am. The Belle Aire Market area will be closed to all incoming vehicle traffic promptly at 8:00am. Do not set up your space until you move your vehicle. It is important that vendors arrive on time to ensure a smooth set-up for everyone. Vendors are required to stay for the entire market.
Please Note
At this time, The Belle Aire Market is not open to Direct Sales Marketers.
If you would like to be considered as a vendor for the 2020 Belle Aire Market, please fill out the application below. The submission of the application does not result in automatic granting of participation in the Belle Aire Market. The deadline to submit your application is the Tuesday (12:00am midnight) prior to The Belle Aire Market you will be taking part in. Set-up instructions will be sent to all accepted vendors the Wednesday prior to each sale. All vendors will be contacted within two weeks of the date the application was submitted.
Questions? Please email meg@downtownbelair.com.