Spartan Surfaces: Where Innovation and Culture Meet
Located at 10 S. Hays Street, Spartan Surfaces opened their doors in Downtown Bel Air in February 2016. What used to be the old Aegis building is now the 46,000 square-foot headquarters for a company where innovation and culture meet. Under the leadership of CEO Kevin Jablon, Spartan is leading the industry while priding itself with real company culture.
Kevin Jablon founded Spartan Surfaces in 2007 with a mission to focus not just on customers, but employees too. As they say at Spartan:
"We are great people dedicated to great products, great families, great friendships, and great happiness."
Kevin grew up in Bucks County, Pennsylvania and graduated from York College, where he met his wife, Tricia. In 2007 he started what's now known as Spartan Surfaces, naming the business after his college mascot. Spartan Surfaces was started with three employees and spanned northern Virginia to southern New Jersey. Today Spartan Surfaces has nearly 100 employees and covers 23 states running throughout the East Coast, the Southeast and the Midwest.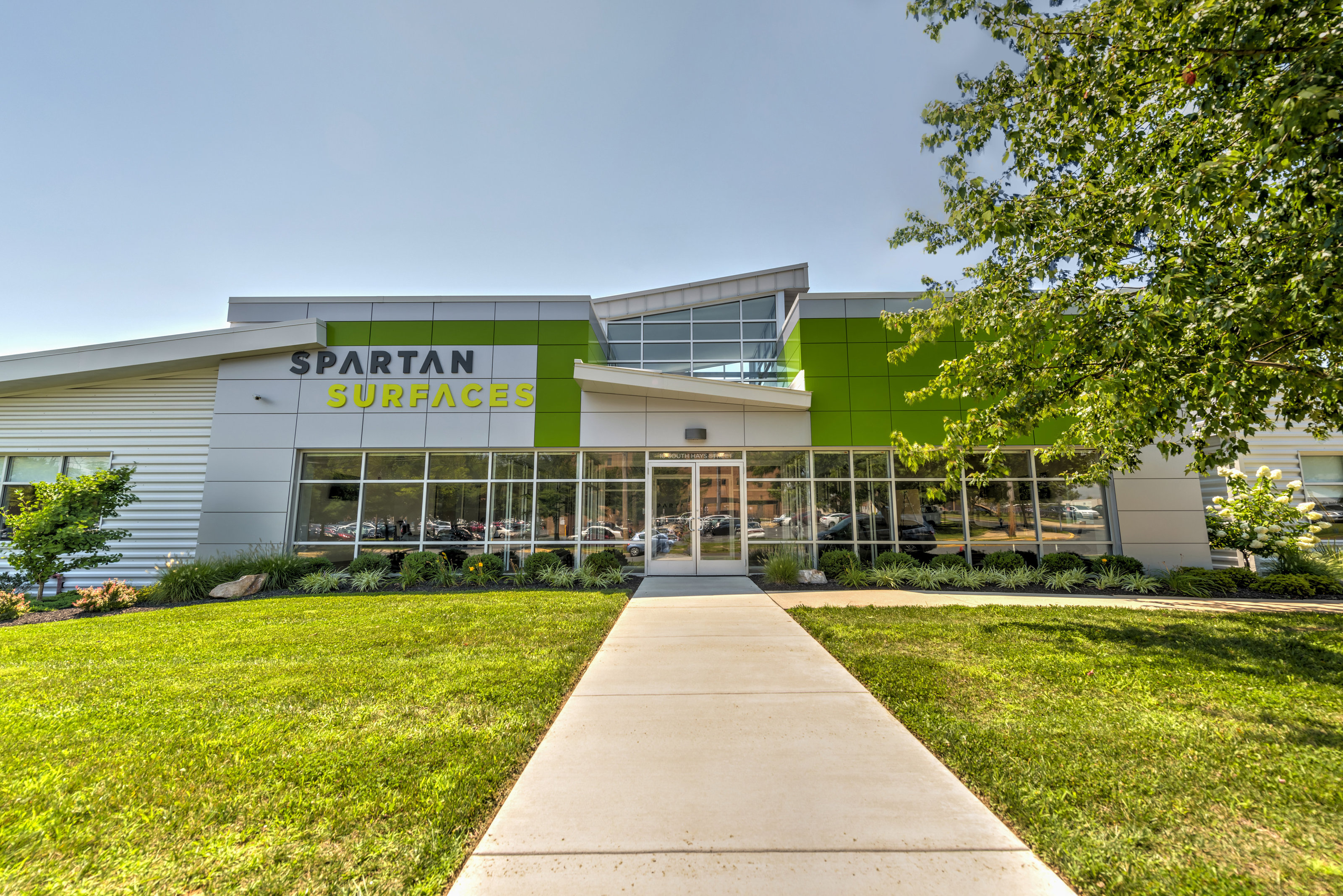 The headquarters on Hays St. is a work of art. The building features a very contemporary and open concept with accents in every room, including a large break room and conference room.
When asked why he chose Downtown Bel Air as the home for his business, Kevin said not many places compare to how well-rounded Bel Air is. Kevin sees it as the perfect location to run his business and raise his four kids with his wife.
The nature of the business that Spartan has, draws a lot of out-of-town visitors and potential business partners. Having the headquarters located in the Heart of Harford in the downtown district allows Kevin and his staff to take business outside office doors in beautiful Bel Air.
The success behind Spartan can be summed in the saying, "work hard, play hard."
Kevin is an entrepreneur at heart and is always looking for ways to take his business model and strategy to the next level. The entrepreneur spirit can be further seen in Kevin with the design and launch of Spartan Sports and Wellness. The gym is a state-of-the-art facility that is open to the staff and public. The gym has dedicated personal trainers for those looking to take their fitness to a new level. The facility comes with high-tech equipment, a golf simulator and even a sauna.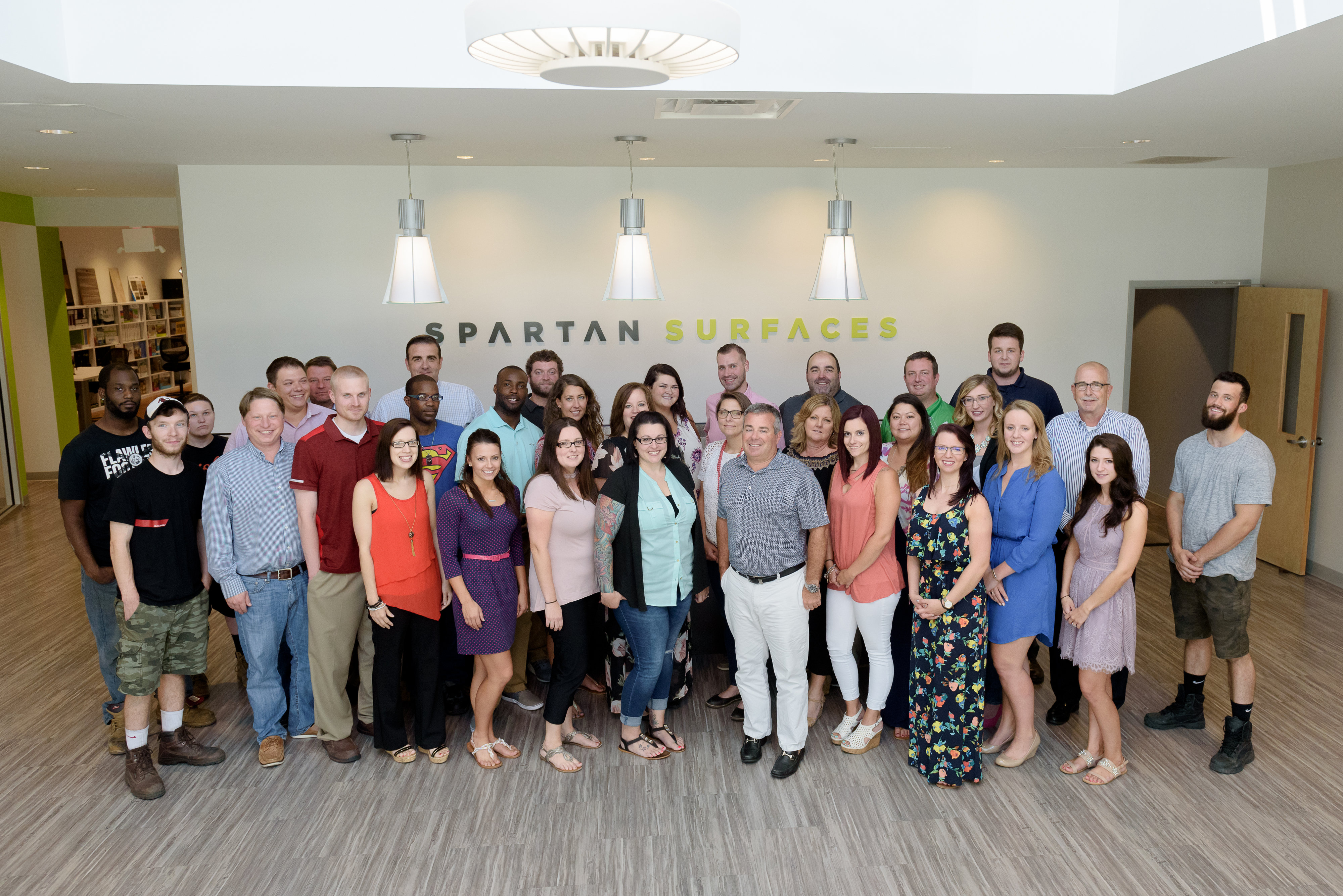 Spartan starts with employees first and the business follows. Kevin and his executive team believe that the right team will move the company forward. Spartan helps this process by creating the right environment within the company.
"Culture is a hot topic and many companies like to throw the word around. At Spartan we take culture seriously as we know the right culture creates the best team."
When you walk through the front doors, you can feel a great vibe; a vibe that screams friends and family over coworkers and acquaintances. The company has frequent small group hang outs designed specifically to have the staff learn more about each other and grow in relationship.
When interviewed, Kevin made it clear that it's his mission for his business and staff to not just work in Bel Air, but get involved in all that's going on. One way Spartan does this is by opening their state-of-the-art conference room to other businesses and non-profits. The Alliance has used the conference room to host Main Street Maryland meetings and business summits. The Alliance even used the Spartan kitchen to host a first ever MD State BBQ Bash Tailgate Challenge cooking class in 2017.
In August of 2017, Spartan Surfaces was also the title sponsor for Roll Out the Barrel – a premium bourbon and cigar event hosted in Downtown Bel Air. The Spartan staff was also there supporting the event and enjoying the night out on the town.
During the 2016 holiday season, Spartan partnered with Harford County, Harford Community Action Agency (HCAA) and United Way of Central Maryland to provide food, clothing, books, and a night out to 42 families and more than 100 children.
With all of Spartan's growth and success, they stay involved, give back and have fun doing it.
Spartan Surfaces is an active member of the Bel Air Downtown Alliance.
To learn more about Spartan Surfaces and to see their work, click here. To learn more about the Alliance and its mission, be sure to click here.
Downtown Bel Air is a Main Street Maryland Community and a state recognized Arts and Entertainment District. Bel Air is a thriving and growing stage for concerts, art galleries, dance performances, theater for all ages, festivals and memorable holiday cultural events. Click the button below to learn what makes Bel Air an ideal location for businesses of all types.