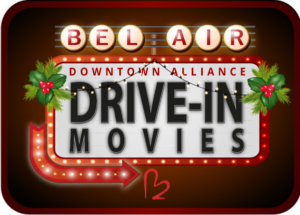 The Bel Air Downtown Alliance has some festive holiday fun planned for you and your family!
During a time when social-distancing is still so important we're bringing you an opportunity to come out and enjoy downtown Bel Air while easily staying 6′ apart!
Drive-In Movies are a beloved pastime that perhaps many of our youngest locals have yet to experience. Invite your family, friends, and neighbors to grab their tickets and meet you at Black Eyed Suzie's for an evening under the stars and in-front of the big screen!
This is a ticketed event and sales will be sold via Eventbrite. Ticket holders should have their tickets ready to present at the time of the movie showing. Ticket sales are open now for both showings! Ticket sales assist the Bel Air Downtown Alliance to cover the cost of operating the Drive-In Movie Series. Refunds will be issued in the case of a rained out event and/or due to COVID-19.
WHEN
Sat Dec 5th
Elf
Runtime 1hr 37m
6:00PM Lot Opens
6:45 PM Movie Starts
&
Sat Dec 19th
How the Grinch Stole Christmas
Runtime 1hr 50m
6:00PM Lot Opens
6:45PM Movie Starts
WHERE
Black Eyed Suzie's parking lot
121 S. Main Street
Bel Air, MD 21014
'Tire Lot'
---
Read on below for everything you need to know to plan for a great drive-in movie night experience!
Load In: Ticket holders can start arriving at 6:00pm. The map below will show the route taken for loading into the Drive-In Movie lot. Head North on Main Street, making a right onto Courtland Place, and then another right into the lot (please be sure not to block any intersections). Volunteers will be there to guide you into your spot. The movie will start at 6:45pm, so once you park, feel free to explore downtown.

Tickets Please have your tickets ready; you can either print them out or have them ready on your Eventbrite app. We will need to scan the QR codes to check you in, so please make sure your tickets include the QR codes. This will allow for a timely entry.
Need Snacks? Plan ahead to grab some food to-go at one of our downtown restaurants! They will be more than happy to have your business. Stay tuned and check back to this page for special offers!
Got Your Mask? Face masks or coverings are highly recommended at this time. If you wish to shop in one of our boutiques before the show or plan to walk in a restaurant to pick-up food you will be required to wear your mask. This recommendation is for the health and safety of all attendees and we thank you for your cooperation.
Can You Hear Me? Good! Audio will be available via 93.5 FM transmission on your vehicle's radio or through a downloaded radio app on your cellular device.
Event is weather permitting. In the case of bad weather, the event will be cancelled and refunds will be issued.


---

Keep checking back to this page for more fun & festive updates as we prepare to bring you some exciting surprises to make these outings something wonderful to remember.
We're all in this together, Bel Air. And as we're looking for that silver lining amongst so much uncertainty we hope that the Bel Air Downtown Alliance can help to bring some joy to your family this holiday season.

---