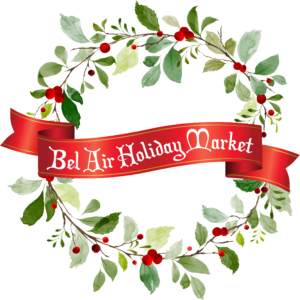 The Bel Air Holiday Market is a collaboration between The Belle Aire Market and the Bel Air Farmer's Market to bring festive shopping to Bel Air!
Bel Air has so much to offer during the holiday season, and we partnered with the Bel Air Farmer's Market to bring you artisan holiday shopping on Saturdays from November 26 to December 17, 9 to 11 a.m. It's the perfect opportunity to not only shop the Farmer's Market you know and love, but also pick up gifts for loved ones and support local artists!
WHEN
Saturdays
Nov. 26 to Dec. 17
9 to 11 a.m.
WHERE
2 S Bond St
Bel Air, MD 21014
Mary Risteau Parking Lot
Full List of Bel Air Holiday Market Dates
Saturday, November 26
Saturday, December 3
Saturday, December 10
Saturday, December 17
Plenty of parking is available throughout Downtown Bel Air at metered spaces, the parking lots on Hays/Pennsylvania and behind Vagabond Sandwich Co., and the Bel Air Parking Garage. All parking is free in Downtown Bel Air on weekends and after 5 pm on weekdays. Visitors may also use ParkMobile for shopping done before 5 pm.
Visit local retailers to take advantage of specials and discounts held at different stores, and eat at one of the many fabulous restaurants in Downtown Bel Air!
Follow us on Instagram and like us on Facebook for announcements and updates about First Fridays and our other events.