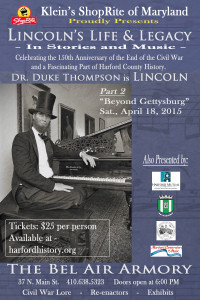 On Saturday, April 18, 2015 at 6 pm the Historical Society of Harford County, the Maryland Conservatory of Music and the Bel Air Arts & Entertainment District will present Lincoln's Life & Legacy: In Stories and Music at the Bel Air Armory, 37 N. Main Street, Bel Air, MD.
Sedition, kidnapping and assassination plots, hardly what you would associate with Harford County today, but 150 years ago these attributes describe the atmosphere in Harford quite well.  The citizenry was strongly divided.  The county produced Maryland's Civil War governor, Augustus Bradford, a strong supporter of retaining the Union, as well as Lincoln's assassin John Wilkes Booth, a radical supporter of the Confederacy. This division was evident throughout the community as families were torn apart by differing allegiances.   As the 150th Anniversary of the end of the Civil War approaches, the War's historic significance will be celebrated in a very unique venue of music, stories and exhibits showing how crucial and conflicting the war was locally and nationally.
Last year this series opened with the first of a two part program on Lincoln's   Life and Legacy.  In addition to archival exhibits from the Historical Society of Harford County, Civil War re-enactors President and Mrs. Ulysses S. Grant greeted concert attendees and described their part in the conflict.   Erika Quesenbery Sturgill, author and re-enactor introduced attendees to her great, great aunt a Confederate sympathizer from Fallston and celebrated local photographer, Dave Gigliotti provided visual backdrops to enhance the performances by our story teller and our star performer Dr. Duke Thompson.
Now, in the second part of the series, "Beyond Gettysburg", concert pianist, Dr. Duke Thompson will expand on Lincoln's journey through the war years, the final meeting of two great generals at Appomattox Court House and the tragic finale at Ford's Theater.  The President's love of music and its role in carrying him through these years will once again lead the audience on this journey from Gettysburg as the tide of war changes. The evening will include a continuation of the fascinating story of Ms. Quesenbery's role in the war, as well as the music and stories of concert pianist and raconteur Dr. Duke Thompson and exhibits of memorabilia from the Civil War . The November concert was very well attended with numerous accolades and as one attendee noted, "I did not know what to expect, but found the program mesmerizing.  It was a great evening."
Tickets are $25 each and  available at the Historical Society, 143 N. Main St., Bel Air, MD 410-836-7691, www,harfordhistory.org.  Tickets will also be available at the door the night of the performance.  Proceeds go towards the restoration of the Historical Society's headquarters, the music conservatory's scholarship program and arts programs throughout the community.