Main Street Social, brought to you by PeoplesBank and Streett Hopkins Real Estate,
is designed to help people build mutually beneficial relationships and lasting connections,
right here in Bel Air, Maryland.
The most successful businesses and professionals are those who connect with their community. We invite you to join us at this monthly networking event so you can meet & mingle with other locals making an impact. Attendees of the Main Street Social will have the opportunity to meet and socialize with the staff of the Alliance, county and community officials, and a dynamic mix of entrepreneurs. As a thank you to our membership, your first drink per event is on us, and appetizers are served for all to enjoy. Get started with getting to know more about Downtown Bel Air!
Step 1: Help us plan ahead by letting us know you're coming! RSVP
RSVP's required per event for 2020. (Adults only.)
Step 2: Plan to join us from 5:00pm-6:30pm at a new location every month . January – November Socials are for members & interested members, and December is our Annual Members Meeting.
Step 3: Share about the Bel Air Downtown Alliance & Main Street Social with your network, follow us on Instagram and like us on Facebook for everything you need to know about the cool things happening in Downtown Bel Air!
---
The Bel Air Downtown Alliance presents.....
The 2020 Growler Gala
designed & created by local artists!
We have 7 unique and extraordinary growlers for you to bid on... Hover over this block for a sneak peek!
---
2020 presents a unique opportunity for guests to attend our annual Growler Gala in-person or to support our cause "virtually". Brought to you in partnership by the Bel Air Downtown Alliance and the Town of Bel Air, we aim to make a difference for our Arts & Entertainment district headquarters, the Harford Artists' Gallery. We'll do this by donating 100% of the proceeds from this week-long bidding bonanza to the Gallery!
Participants will bid on auction items with the convenience of using a credit card via a secured account created with Charity Auctions Today. You'll then be notified in real-time if you've been outbid so you can reclaim victory! We hope you enjoy the art and this unique platform.
Thank you for your generosity and for your support of small businesses and local artists. We ask that you please share this auction on your social media using the hashtag, #2020GrowlerGala
---
To begin, aim your smartphone's camera at the QR Code below and tap on the pop-up notification. You'll then be taken directly to our Growler Gala Silent Auction on the Charity Auctions Today website. Next, register to be a live bidder in our auction. And finally, when you're ready to place your first bid you'll be instructed to create an account via their secured site.
Have fun & Happy bidding!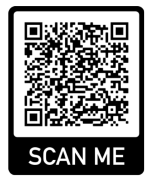 When
4th Wed monthly
5pm to 6:30pm
Where
Locations vary
See schedule below
Admission
Free to all
who attend
Main Street Social Schedule


Brought to you by our generous Monthly Sponsors
Snee, Lutche, Helmlinger & Spielberger P.A.
Boyle Insurance
Kelly Mechanical Services
Bel Air Athletic Club
WSMT Insurance
January 22nd – Black Eyed Suzies
February 26th – Independent Brewing Company
March 25th – AleCraft – CANCELLED
April 22nd – Looney's Pub
May 27th – MaGerk's
June 24th – Sean Bolans
July 22nd – Main Street Tower
August 26th – Black Eyed Suzies
September 23rd – Independent Brewing Company
October 28th – Looney's Pub
November 18th – Growler Gala – MaGerk's
December 7th (Monday) – Rockfield Manor – Annual Membership Meeting – 6:00-8:00pm