This year has looked very different for our local small businesses and they need our support now more than ever! We're asking the community to think of all that Downtown Bel Air has to offer for your holiday shopping this year. Many of your favorite retail shops are extending their typical Small Business Saturday specials & promotions. Each shop has creative ideas and deals to offer! Reach out to them and find out more about how they're creating a safe and compliant holiday shopping experience for you, all season long.
---
|  Call them!  |  Visit their website! |  Scroll by their FB or IG pages!  |
|  They would LOVE to hear from you!  |
---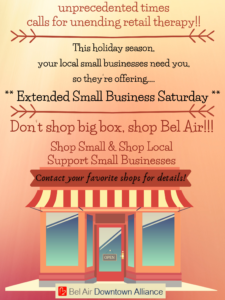 ---
|  Downtown Bel Air Has So Much To Offer  |
Men's clothing
Specialty framing
Candles
Women's clothing – Shop them all, from Main to Bond St, to find the perfect fit & the perfect gift!
Home Decor – We have lots of options featuring different styles, and we hope you explore them all!
Baked goods
CBD products
Fair-trade & hand-crafted jewelry, skincare, pottery
Plants – Visit our newest shop in The Armory Marketplace
Pet items
Records, Taps, 45s, and more
Comic books & novelty gifts
Running gear
Formal wear
and so much more!
And don't forget the many options we have to offer for your Salon & Spa Day needs.
We know New Year's Eve will also look & feel a bit different this year (more like, very different) but that doesn't mean we don't want to embark on a bright new year with a fresh new look!
Contact your favorite salon or try a new one and book your appointment today! 
One additional special occasion gift purchase every 6 months (2 per year) creates 283 jobs.
One additional professional service purchase every 6 months (2 lawyer/accountant services per year) creates 583 jobs.
One additional patronage visit to a restaurant each month (12 meals per year) creates 1,802 jobs.