What's Happier than a Sunny Day?
If you've been to Downtown Bel Air, if you've walked Main Street, you've most likely heard of a local breakfast place known as Sunny Day Cafe. Located at 101 S Main Street, Sunny Day has become one of the most successful businesses in Downtown Bel Air. Take a few minutes to learn more about Sunny Day and what's behind their success.
So, why name a restaurant Sunny Day Cafe? Laurie Orfanidis, owner of Sunny Day Cafe, says one night she was throwing around ideas with her friend Ellen. They agreed that the restaurant had to be a happy and fun place for visitors. When asked what makes Laurie the most happy, she answered, "A sunny day." Thus the restaurant name created; Sunny Day Cafe.
Why Bel Air? After looking at hundreds of locations, Laurie says no place compared to Bel Air in terms of convenience of travel, and no community came close to that of Bel Air. Her gut feeling about the town proved accurate as soon as the cafe doors opened on November 1, 2012 at 101 S Main Street.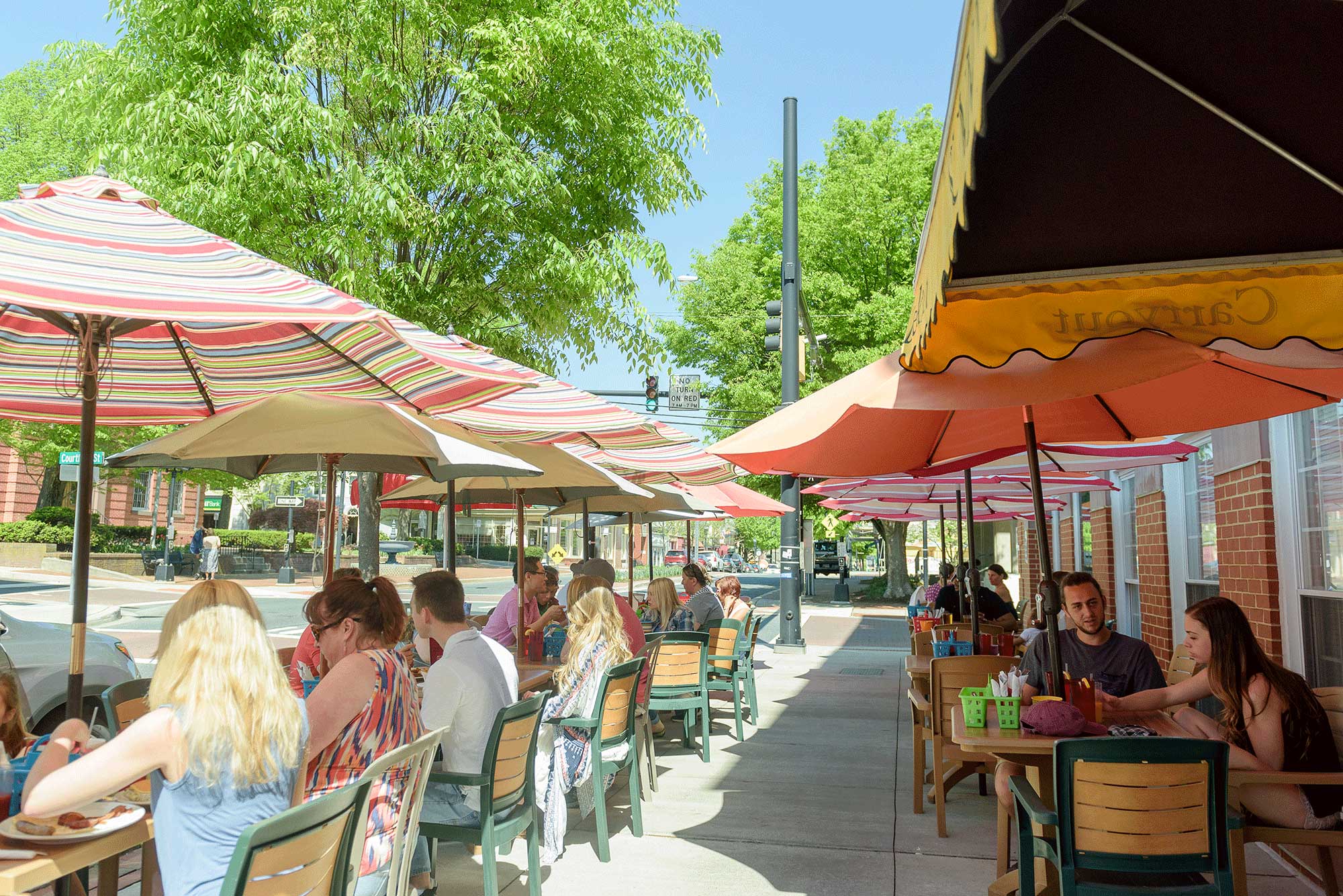 What many people visiting the cafe may not know is that Laurie's original business model was centered around catering; this required her to have a small restaurant. While the restaurant side of the business was not her initial focus, the response Sunny Day received was overwhelming. As it stands today, Sunny Day is a hopping place both as a restaurant, as well as a caterer.
Sunny Day is a cozy place and has a "Cheers" like atmosphere where you're bound to run into someone you know. When the sun is shining, you can enjoy sitting outside, listen to live music from musicians like Classical Chris and of course, enjoy the delicious food.
The success behind Sunny Day Cafe is a result of Laurie's experience in the restaurant industry, her quality of service and involvement in her community.
Experience: Laurie has been in the restaurant business since 1980. Her first job was at a local restaurant across the street from her home where she worked until she opened the doors to Sunny Day. Not only did Laurie learn the ins-and-outs of the restaurant industry at her first job, this is also where she met her husband Nick. Nick is her biggest supporter and is the friendly face you'll see almost every time you visit!
Quality of Service: From day one, Laurie has focused on great quality of service the cafe would be known for. Laurie and her team work hard to provide a dining experience that centers around their patrons. This means a staff that has pride in what they do and truly cares about every visitor.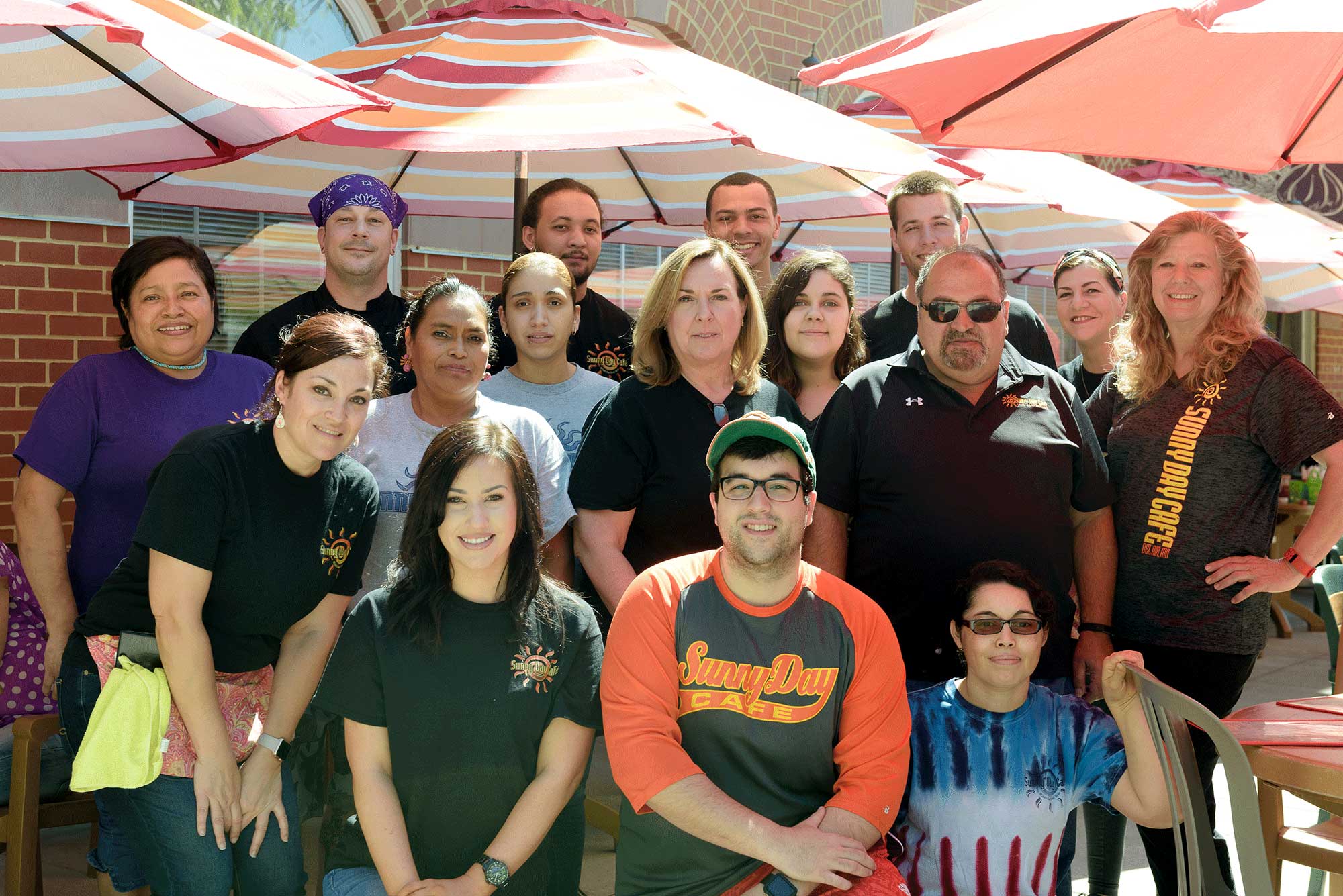 When asked what makes Sunny Day Cafe special, Laurie replied:
"We care about what we do. We're not perfect, but we try to make sure that all people who come leave happy."
It's as simple as that. Laurie credits much of the cafe's success to her staff. She's quick to highlight the important role that Ben Stoner, Front of House Manager, plays at Sunny Day. He is fully invested in the mission of Sunny Day and works hard to preserve the great quality of service the restaurant offers. Without Ben, the restaurant would not be the same.
If you're interested in learning more about Sunny Day Cafe's mission or to join their team, click here.
Community: Sunny Day screams community. Local artists fill the walls at Sunny Day with their eclectic works of art. Artisans have gone to the extent of creating specific pieces for Laurie and her team. If you haven't yet seen the hand-stitched logo at the center of the cafe's wall, be sure to check it out.
Laurie's passion goes beyond her restaurant. You can often find her supporting and volunteering at Downtown Bel Air events like First Fridays and the MD State BBQ Bash. Her community minded approach is one of the biggest keys to her success. Here's the list of just some of the ways Sunny Day Cafe stays involved in the community:
Supporting LEO Wives Have Your 6
Bel Air Downtown Alliance Board
Christmas Parade
First Friday
MD State BBQ Bash
SARC
March of Dimes
Harford County Schools
Sunny Day's work and success has not gone unnoticed. The restaurant has received many awards like that from the state recognizing the economic impact that Sunny Day is having on the greater Bel Air area. Sunny Day has also received the Certificate of Excellence from TripAdvisor and most recently, the Bel Air Business of the Year Award! Laurie says this about her Business of the Year Award:
"I never dreamed in a million years it would happen. It's not why I do it, but it's nice to receive recognition for your hard work."
When not in the community or running the store, Laurie enjoys traveling to, once again in her own words, "sunny places." She loves all things upbeat. Her favorite foods are pizza and steak and when she finds any time to watch TV, her favorite TV show is Kings of Queens.
Sunny Day Cafe is an active member of the Bel Air Downtown Alliance and often participates in all that's going on in Downtown Bel Air.  Sunny Day is no longer owned by Laurie Orfanidis, but is still thriving in Downtown Bel Air.
To learn more about Sunny Day Cafe or to see their menu, click here. To learn more about the Alliance and its mission, be sure to click here.