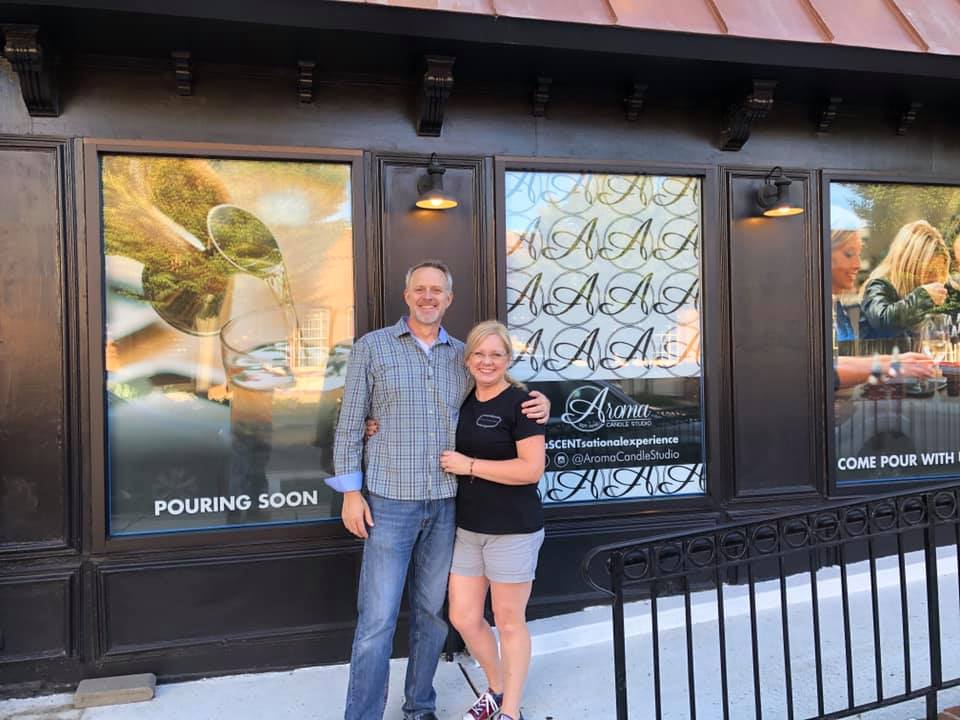 Aroma Candle Studio will be opening November 22nd at 18 S. Main Street. Wendy and Marc Mills are starting their first new business right here in the Heart of Harford. Aroma Candle Studio is more than just a candle shop, it's an experience. This retail store invites guests to participate in designing their own uniquely scented products, everything from hand-poured soy wax candles to aromatic mists. Whatever the occasion is, Aroma is the place to go.
Wendy and Marc love the environment and vibe of Downtown Bel Air. They mention, "you can see the passion in the small business owners – and all the locals love Downtown". Their business model not only supports their business, but it also is an avenue by which shoppers visit other stores and restaurants as the wax from their custom candles dry.
Aspiring entrepreneurs face challenges knowing where to start or what to do, so we asked Wendy and Marc what their advice would be to those wanting to start their own business. Their response was quite simple, "GO FOR IT and develop a business plan. Plug in all the resources that are available and be persistent. Get to know and communicate with departments such as the Town of Economic Development and the Office of Economic Development for Harford County. Get to know organizations such as the Bel Air Downtown Alliance". We found out that the owners of Aroma Candle Studio did some research within Main Street by talking to local shop owners.
So now you know who Wendy and Marc are and what Aroma Candle Studio will be on November 22nd! When you're looking for a date night, a getaway with the girls, birthday party plans, or just an opportunity to de-stress , Aroma Candle Studio will be the place to go. Don't forget about the rest of Downtown Bel Air – be sure to shop local on Small Business Saturday happening November 30th.